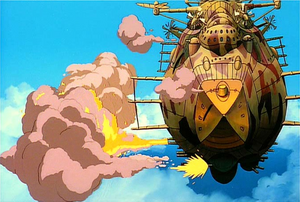 The 
Goliath
 or 
Air Destroyer Goliath
is a military airship utilized by the government in
Laputa: Castle in the Sky
 to access
Laputa
.  It possesses enormous firepower, greater than that of the cannons in 
Colonel Muska
's fortress.  Goliath was eventually destroyed by Laputian
robots
under the command of the renegade Colonel.  
Specifications
Edit
Goliath is approximately 1,000 feet long.  Although the inside is composed of neumerous sections holding hydrogen or helium, a large array of propellers and rotors are needed to sustain and maneuver the craft.  There is also a large selection of weapons present on Goliath such as turret-mounted cannons equipped with armor-piercing shells, smaller barbette-mounted cannons, and Maxim machine guns.  Although the larger cannons were capable of destroying the robot that escaped Colonel Muska's fortress, they were no match against the power of Laputa.  Goliath is also capable of carrying three Spy Planes on its underbelly.  Finally, an entire battalion of government troops can be carried within Goliath.  
Appearences
Edit
Goliath appeared in Laputa: Castle in the Sky where it ferried Colonel Muska and government troops to Laputa.  It was later destroyed when the Colonel unleashed Laputian robots to cut away at the hull of Goliath until it exploded.  
Ad blocker interference detected!
Wikia is a free-to-use site that makes money from advertising. We have a modified experience for viewers using ad blockers

Wikia is not accessible if you've made further modifications. Remove the custom ad blocker rule(s) and the page will load as expected.