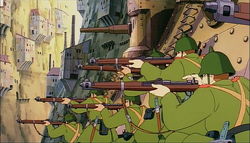 The people in the Army are the military henchmen for Colonel Muska and Muoro in Studio Ghibli's film, Laputa: Castle in the Sky. They tried kidnapped Sheeta and Pazu and worked on Colonel Muska's Military Base. On Air Destroyer Goliath they sailed to the flying island of Laputa, and at the end of the movie, fell from Laputa along with General Muoro.
Ad blocker interference detected!
Wikia is a free-to-use site that makes money from advertising. We have a modified experience for viewers using ad blockers

Wikia is not accessible if you've made further modifications. Remove the custom ad blocker rule(s) and the page will load as expected.