Ms. Dora is a major character and friend of Kiki's family in Kiki's Delivery Service. She is kind, sweet, wise old lady who seems to have known Kiki's mom, Kokiri, since she was 13. She is voiced by Sho Saito, Diane Michelle (Streamline) and Fay Dewitt (Disney).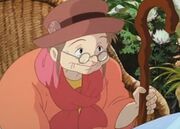 Ms. Dora has grey hair and wears glasses. She wears a light red dress with red scarf and her staff.
Ad blocker interference detected!
Wikia is a free-to-use site that makes money from advertising. We have a modified experience for viewers using ad blockers

Wikia is not accessible if you've made further modifications. Remove the custom ad blocker rule(s) and the page will load as expected.