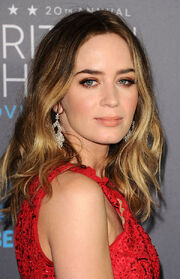 Emily Olivia Leah Blunt (born 23 February 1983) is an English actress. She has appeared in The Devil Wears Prada (2006), The Young Victorian (2009), The Adjustment Bureau (2011), Looper (2012), Edge of Tomorrow (2014), and Into the Woods (2014). She has been nominated for five Golden Globe Awards, four Critics' Choice Awards, two London Film Critics' Circle Awards, and one BAFTA Award. She won a Golden Globe Award for her work in the BBC television drama Gideon's Daughter (2007). In 2009, she received the BAFTA Britannia Award for British Artist of the Year.
Characters
Edit
Ad blocker interference detected!
Wikia is a free-to-use site that makes money from advertising. We have a modified experience for viewers using ad blockers

Wikia is not accessible if you've made further modifications. Remove the custom ad blocker rule(s) and the page will load as expected.