Madame Gina is the opera singer in the film Porco Rosso directed by Hayao Miyazaki of Studio Ghibli. She is the owner of Hotel Adriano. She is an original characters for the film and she doesn't appear in the manga The Age of the Flying Boat, which the film is based on.
Personality
Edit
Madame Gina sings beautifully. She is very kind and wants people to get along. She remembers her husbands and how she can never get over it. She is very fond of Marco Pagot and talks about him as an old dear friend to her.
She is three times married and she get three times widowed. Her first husband was Bellini, who gets killed two more days later on flying patrol. H er second husband crashed into the Pacific Ocean. Her third husband died in Bengal. Marco is her only friend from young days as teenagers.[1]
Marco is a dear friend to her. In her young days she flew with Marco in his plane Adriano, which her hotel is named after. She loves him, but she doesn't make the move for a proposal.
Due to her kind words the air pirates become lambs and protect her. They keep the peace around Hotel Adriano[2]. With only few words she smooths the pirates. Fio Piccolo, best friend of Gina, know how to do it, too.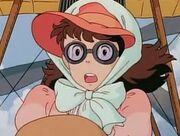 References
Edit
↑

The Art of Porco Rosso, page 56.

↑

The Art of Porco Rosso, page 52.
Ad blocker interference detected!
Wikia is a free-to-use site that makes money from advertising. We have a modified experience for viewers using ad blockers

Wikia is not accessible if you've made further modifications. Remove the custom ad blocker rule(s) and the page will load as expected.