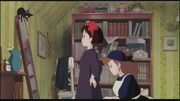 Karikiya is a rural area in the film Kiki's Delivery Service directed by Hayao Miyazaki of Studio Ghibli.
Kiki leave her home in the age of 13 to become a witch. She will become self-consistent on her journey. So it is natural to leave the home to become an adult.
Karikiya is the home of her father Okino, her mother Kokiri and the old lady Dōra. Near Kiki's old home there are bells. Kiki will find her home by hearing the sound of the bells. Kiki's room is on the second floor.