Mei and the Kittenbus
(Mei to Konekobasu) is a short film 13 minutes long, which is occasionally shown only at the
Studio Ghibli Museum
. Currently there has been no DVD commercial release for this film.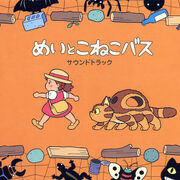 This film was possibly
Hitoshi Takagi
's last film before he died. It will be shown in the Ghibli Museum from November 1 to November 30.
[1]
It tells the story of Mei and her friend the kittenbus (the child of the original catbus)
Plot
This film begins in Mei's house, two months after her mother returns from the hospital. Mei goes outside to a little stone hill and watches the skies. When she eats a Japanese caramel cube candy, a mini whirlwind suddenly comes spinning her dress. The whirlwind chases after Mei and she runs back into the house where she manages to trap the whirlwind. It turns out to be a kittenbus. The kittenbus is scared and tries to escape the room at first, but bonds with Mei after she gives him a caramel cube to eat with her. The catbus shows up, and Mei opens a window to let the kittenbus follow the catbus into the air. Later that night, the kittenbus takes Mei for a ride. Along the way they spot the catbus, the kittenbus' father, which is filled with spirits like Totoro. Another catbus pulls up beside them, and soon a variety of cat vehicles appear such as a cat-train, all filled with Totoro-like spirits. The catbuses drop their passengers off, and the kittenbus drops Mei off with them. The spirits move apart to reveal Totoro, who is very happy to see her. Mei hops onto his chest and he takes her to a giant, ancient cat liner that is being boarded by the spirits. The kittenbus appears on his head and Mei asks the kittenbus "is this your grandma?" in which the kittenbus meows back. Mei introduces herself as the kittenbus' friend, and proceeds to feed her a caramel cube. A few minutes are taken to eat the caramel candy where she almost chokes, but is ultimately happy after swallowing. She gives Mei a lick and she licks her back. The giant cat liner leaves while Totoro stays behind. Mei and the kittenbus follow them for a while, then return to Mei's house.
Characters
Cast
Crew
References