Kidnapped Girls are on the list of unnamed characters in the film Porco Rosso. They're captured by the Mamma Aiuto Gang during a battle plane. Porco shoots down their plane and rescues the girls. Kidnapped girls are voiced by Ashley Edner, Kaitlyn Maggio, Aimee Roldan and Chelsea Smith in English version.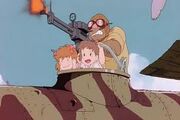 Ad blocker interference detected!
Wikia is a free-to-use site that makes money from advertising. We have a modified experience for viewers using ad blockers

Wikia is not accessible if you've made further modifications. Remove the custom ad blocker rule(s) and the page will load as expected.